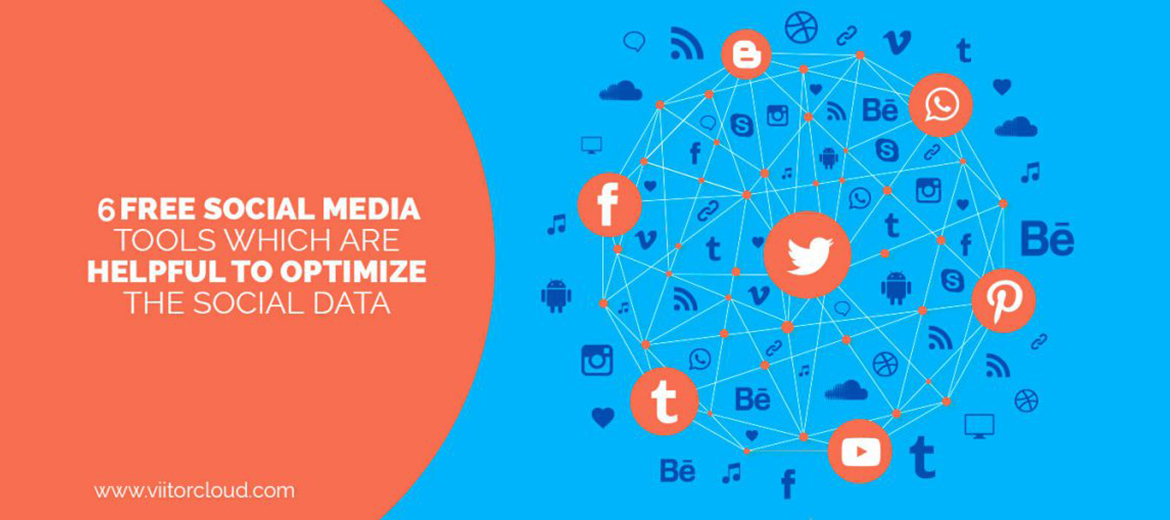 Posted On

: 4th January, 2017

by

ViitorCloud
Social media is no longer networking platform which used to only connect the people with friends and family. Today, it has evolved as a colossal online platform which is being increasingly leveraged by the marketers and brands worldwide to engage their customers, market their products & services and enhance the brand recognition.
While social media is among the best ways to give your brand an outstanding recognition, its usage cannot be limited only to popularise a brand. In fact, marketers can use it to listen to what their prospects and customers are talking about, in order to improve their services. Social media marketing campaigns and social media analytics can be used together to attract the customers towards a brand, to enhance the sales and garner useful sales leads while listening to the people's feedback about a brand in order to take corrective measures.
What are Social Data?
Social data is the colossal data which is collected from diverse the social media networks for the purpose of evaluation and deriving useful insights that can be used by the businesses to improve, enhance & widen their offerings whilst improving their customer service.
Today, almost every business, whether small or large is either using the social media networks to strengthen their presence and enhance their patrons in multiple ways. Social media networks with the social data have become the most revolutionizing contemporary marketing tools for the organizations. These help in increasing the effectiveness and efficiency of the marketing campaigns, deliver better responsiveness and increase the scope reach of the marketing campaigns. However, if you want your social media marketing campaigns to become more efficacious and derive optimum benefit from them, it's vital that you use the right set of tools. This post presents an insight about the social media tools that can be used without any licensing fee to attain a broad array of benefits including optimization of their social data.
Here are the 6 free social media tools which are helpful to optimize the social data:
Canva
Canva is one of the best and free tools which you can use to beautify your social data and transform it into stunning design presentations. Canva facilitates a plethora of social media graphics and eye-catching layouts which can be used to attract the audience towards social media posts and enhance their reach.
Canva offers innumerable illustrations, vectors and photographs. It allows you to upload your own visuals and beautify them using a number of advanced filters and photo editing tools. It also enables the users to use the preset filters for image modification, while facilitating the usage of shapes, elements, icons etc. moreover, hundreds of artistic and creative fonts to complement the different designs are also made accessible by Canva.
HootSuite
Hootsuite provides its users a centralised dashboard where they can get the overviews of the different activities being taken place in their different social media accounts, including the ones on Facebook, Twitter, Google+ and LinkedIn, etc. You can connect multiple social networking accounts to your Hootsuite tool and save time in posting the content of the different accounts by logging into them individually. Furthermore, you can schedule your posts on all the social channels and those will be posted at the scheduled time. This way you can reach your audience any time you want without actually posting. Consequently, your efficiency and social reach increase considerably.
However, some users feel that Hootsuite is not as user friendly as it should be. But, the functionalities offered by this tool are undoubtedly beyond compare.
Buffer
Buffer is an exceedingly simple, easy to use and effective tool that enables you to schedule your posts for your different social media channels. Its cardinal aim is to make the task of posting content on diverse social networking sites easier and less hassles oriented. While it does a brilliant job in scheduling the posts, it lacks in providing resourceful analytics. The analytics functionality that comes integrated with the free version of the tool is not very efficient for supporting the optimization of the posts.
So, if you don't want to pay for Buffer's paid version in order to access the analytics functionality, you can plan to use other free analytics tools for gathering informative data pertaining to the success of the posts.
Facebook Insights
As the name suggests, the Facebook insights is a tool that provides you comprehensive stats on your Facebook Page's post reach, likes and engagement. Using this tool, you can easily measure the progress of the Facebook posts that you have been posting and how successful they have become. It lets you analyse that which of your efforts are bringing the desired results and which are failing in doing so.
But, the best part of this tool is that it enables you keep a watch on your competitor's Facebook pages and find out about their post engagement stats as well. This implies that if one or more of your competitor's are performing well, you can track their activities and learn how they are doing things differently in order to achieve the measurable results. Similarly, if a competitor is performing badly on Facebook, you can watch their page to learn about what mistakes they are making so that you can avoid making the same mistakes. Undeniably, it is a great tool to use for Facebook accounts.
Followerwonk
Followerwonk, which is a part of Moz works in the similar way as the Facebook insights work, but it provides useful analytics options for your Twitter account. Using the Followerwonk, you can evaluate the effectiveness of your Tweets and the overall performance of your Twitter account. At the same time, it allows you to analyse the activities of the users you follow or your followers to ascertain when they are active, what activities are they are indulged in and much more. It can aid you to learn from your competitors and improve the effectiveness of your Tweets so that you can better engage with your audience.
Furthermore, it provides you the demographics of your followers, which is yet again a useful information that can help you efficiently plan your marketing campaigns. Also, in order to help you save time in posting Tweets, Followerwonk can be integrated with Buffer to schedule the tweets and set the posting times when the highest umber of your followers are online.
Cyfe
Most of the businesses spend a considerable amount of time in collecting, monitoring and analysing the social data in order to make informed business decisions. The bigger is your online presence, the more time you are required to spend for collecting the social data. However, Cyfe is a wonderful tool which has been designed specifically to solve this problem. Cyfe facilitates a cloud based service which solves the issues of collecting and monitoring the social data by allowing you to easily monitor & share all the imperative business data from a single location in the real time. Thus, making strategic business decisions becomes easier and you can use your time for focusing on the core business activities.
Marketers need unmatched skills, creativity and years of experience for achieving success in the social media campaigns. But, the usage of some of the efficient tools like the ones mentioned above can simply the task to a great extent. There are several other free tools that enable you to get the best support from social media sites for your business.
ViitorCloud is one of the leading social media marketing firms that offers its clients pioneering social media campaigning ideas emphasizing on marketing their products & services, while gleaning resourceful insights about the customers behaviour. With a veteran team of social media professionals, ViitorCloud has been delivering unparalleled digital marketing services for over six years now. By using the most advanced tools and technologies, ViitorCloud helps you strengthen your social media presence and gain maximum value from it.