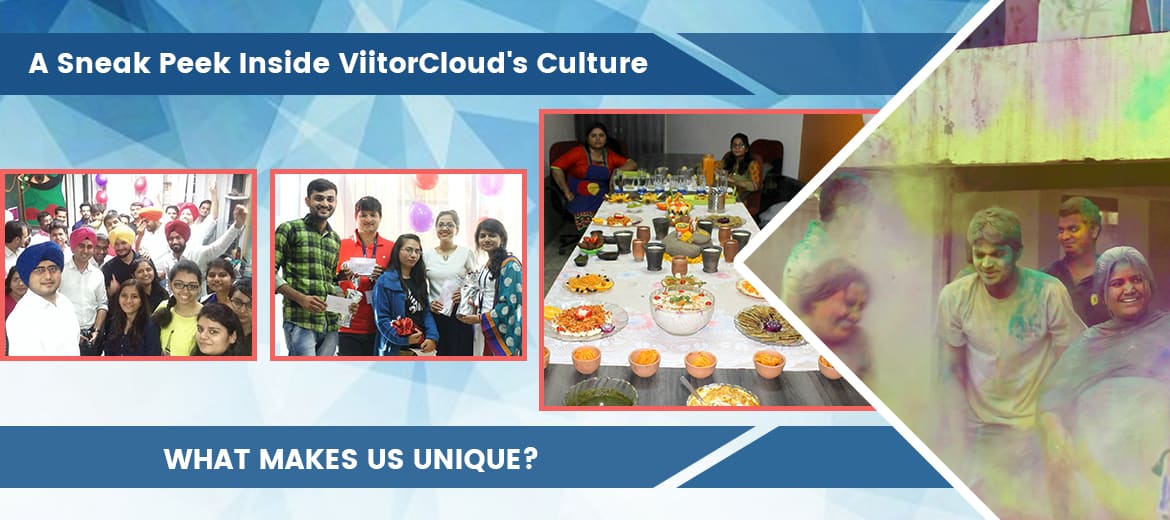 Posted On

: 21st July, 2017

by

ViitorCloud
When analysing a company or business, it's eminent to get well-versed with its culture. At ViitorCloud Technologies we feel immensely proud of the culture and workplace environment that we've created for our employees.
It's of utmost importance to us that while maintaining professionalism & appreciating creativity, we at the same time offer transparent discussion platform for all. ViitorCloud values every talent and their unique skill set that sets them apart, fostering them as an actual company asset.
As the leading digital solution provider, we love people who are creative and have the same tech bug in them as we have and more than that we warmly welcome amazing tech geeks to be the part of our ViitorCloud family.
We are extremely passionate in extending our complete support and are always willing to know and accept the concerns of our esteemed work force. We always strive to make our employees moved, performance-driven by boosting them and giving them the right environment of individual growth in a broad variety of expertise.
The work culture at ViitorCloud is created and managed by its committed and self-motivated professionals. We believe in being productively innovative rather than programmed hence we don't pin specific list of rules or regulations.
Our culture reflects our work. We always carry out exciting, fun sessions and activities that make the workplace pleasant for all. Similar to every other developing organization, we praise team spirit, impeccable skills and commitment from our team members. Our management is open to feedback, and so we make sure that employees get an environment that sustains them to grow not only professionally but on an overall basis. We accept that a happy team reflects positive energy which ultimately boosts business.
Adaptive environment, competitive salary, & exceptional benefits for to thrive exceptionally are some of the prime factors which support our team in their skill development and in recognising their performances. The recognition of real performer and cognizing them for their excellent work is also the part of ViitorCloud's principles.
ViitorCloud's principal aim is to promote its employees to build a successful, long term bond of agreement with the organisation. ViitorCloud is equal opportunity employer to all professionals irrelevant of their socioeconomic background or experience.
We foster
Transparency
Fun Sessions & Activities
Working ethics and excellent management support
Learning opportunities
Collaboration & Team Work
Career exposure & growth
Leadership
Top-notch working environment
Clear Values and Beliefs