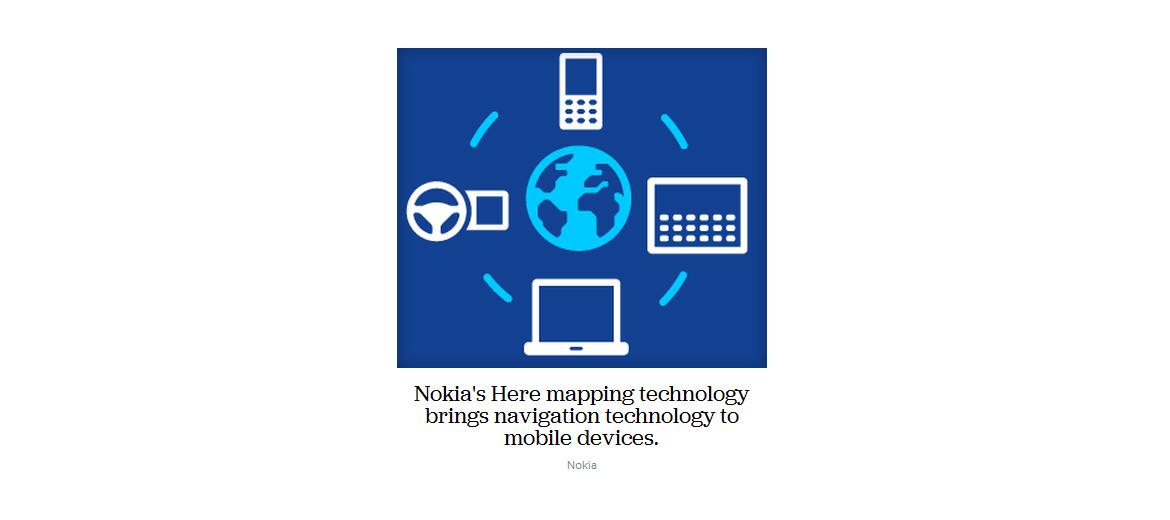 Posted On

: 5th May, 2014

by

ViitorCloud
The Finnish technology company aims to make money off the profound transformation of driving made possible by the combining automobiles with computing and networking technology.
Fresh after selling its mobile-phone business to Microsoft, Nokia is now turning its attention to another area potentially ripe for rapid technological change: smarter cars. Nokia Growth Partners, the company's venture capital group, plans to invest $100 million into companies that bring more computing and communications technology to cars, the company said in conjunction with the Global Mobile Internet Conference this week. "The car is really becoming a platform like when the mobile handset became a smartphone and all the apps and services developed around that," partner Paul Asel told Bloomberg.
Nokia has a significant presence in auto electronics through its Navteq division, which supplies mapping and navigation data for vehicles' sat-nav systems. Through its Here brand, Nokia's technology also extends to smartphones and tablets, too; the company has 6,000 employees working on mapping technology. But much bigger changes are afoot that goes beyond navigation and likely will mean driving will become a profoundly different experience.
The auto industry, prodded by Google, is moving toward a more radical transformation involving self-driving cars, car-to-car communications, platooning that links cars into efficient highway trains, and coordinated city transportation infrastructure.
"We're seeing innovation that's happening across the auto ecosystem through the combination of mobility and the Internet," Asel said.
competitively, but Nokia Growth Partners has been a bright spot, said Rajeev Suri, Nokia's new chief executive, in a statement Monday.
"NGP has been consistently performing well bringing in both new innovation and financial return to Nokia. Our new $100 million venture fund launched today further underlines our belief that the connected car is a significant growth opportunity where NGP is poised to make great investments," he said.
Source Credit : http://goo.gl/ZnuAoZ