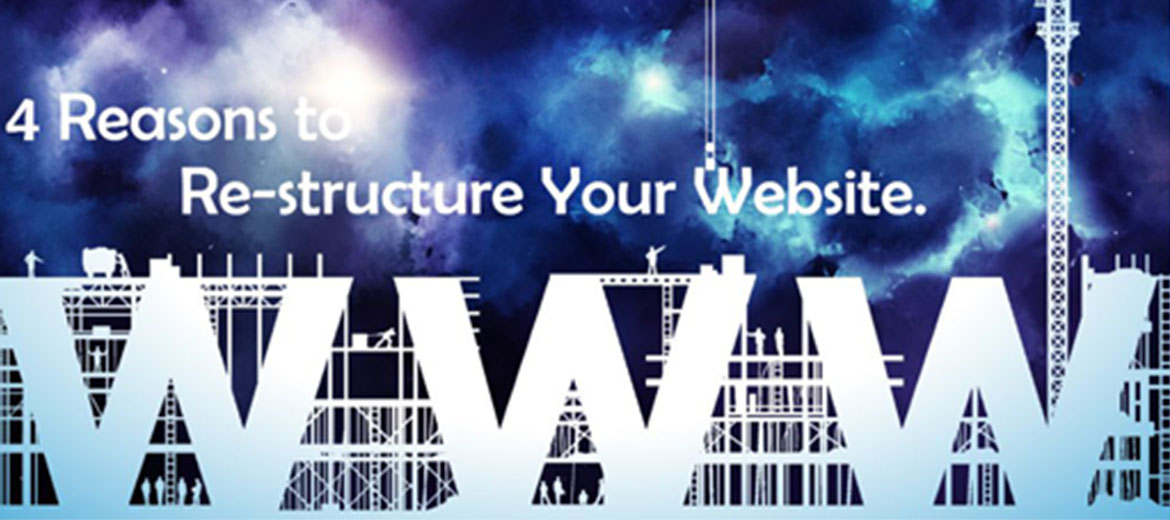 Posted On

: 13th October, 2014

by

ViitorCloud
If you're current website does not help out you to produce sufficient business then it's time to renovate your whole website. It's time to redecorate the web according to present trend and it's time to re-structure your content strategies.
In general, the idea is to not to destroy your online occurrence for the mistaken reasons. Website re-designing can force the course of your over-all strategies if not appropriately designed or implemented. However, just because someone asks you to believe that you need to redesign your website do not mean at all that you will do it right without making an allowance for the purpose. The plan must include to enlarge traffic to your website which turns in to business. The high level plan is to contain your new product lines or to keep side by side with the current web trends; website re-designing initiatives must be thoroughly planned.
Before you arrive at decision, have a look at below given reasons once:
1.Your website does not attract new traffic.
To generate new traffic, your website should have sufficient visibility in the search engine with your aspiration product line to sell. Each page should include call to actions where every visitor should fill up the forms to reach you or either the visitors should get the information of their choice by getting the forms filled.
Have you try to measure past 12 months analytics of your website? Have a look at below parameters:
Number of visits
Percentage of new visits compare to past
Landing pages most visited
Time spent on website
Bounce rate
Conversion rate
Once you have these data in your hand, you can analyse market behaviour. If the visitor cannot find what they are looking for, there is no meaning of the website on air. The chances are, these visitors will never come back.
To get regular visit, the content placement and redesigning strategies should be applied.
2. In this competition, your marketing objectives changed
We are here to fight for every single visitor to turn into customer. The competition scenario has been changed globally which affects largely to your business comparing to your competitors. Your competitors may have already copped up with the market needs but you are still behind.
To be present in race, refurbish the website is one such option available in hand, which can immediately giving the desire results. The marketing goal has to change for re branding your product lines, adding innovative products in the list as well refocusing on your positioning with all new content in place. It will all help through redefine landing pages, product lines and services.
3. Structure of an antique technology
Yes, this is the reason, your website does not seem large neither it has any dynamic approach. With changes in technology, we have to execute new design, layouts, functional aspect, tools, add-ons etc with deliberation of browser compatibility too.
An antique built website does not work with high tech browsers. Visitor does not feel thrilled while visiting your established old formed website. The old technology website may take longer time to load. When it happens, the visitor to your website will annoyed consequently don't just sit ideal – make your decision to redecorate the website.
The search engine policies are changing in periodical events. We will help you to relocate your business in WWW world so that you can make a good intuition on your customers and make them visit your web every now and then. We will help you to create fresh content and an appealing design with our search engine optimization services.
4. When your site is not user friendly
Being user friendly can have a considerable impact on the productivity of the website. It affects visitor maintenance, visitor return rates, bounce rates, individual page alteration rates and overall site conversion rate.
Making a website visitor friendly with is something that should be addressed during the design of the website by the web designer, but in the many usability audits we carry out, it's an feature that frequently seems to get taken for decided or assumed.
The International Organization for Standards (ISO) defines something as user-friendly if it efficiently and capably satisfies a specified set of users by allowing them to accomplish a specified set of tasks in a particular environment.
In our web development check-list this means designing a website to effectively and efficiently satisfy the visitors the site was designed for, which is one reason why it's important to know who the target visitors for a site actually are.
This means a site does not have to satisfy all visitors, which is virtually not possible. It doesn't matter if children find it tricky to use your website if children are not the target visitors.